ALEX

WILLIAMS
Liz Hodgkinson writes ...
An Alex Williams painting is always easy on the eye, and has a vibrancy and freshness which
often belies the considerable skill involved in its execution.
Alex depicts agricultural landscapes with a cool painterly appraisal which may include such scenes of modern life as abandoned tractors, rusting cars and discarded implements. There is no nostalgia or "Hay Wain" sentimentality there, and unlike most landscapes, which tend to be serious, solemn depictions of the countryside, Alex's rural and farm scenes usually include a touch of wry humour, something playful to make you smile.
His figures — and particularly his delicate studies of girls and women — are painted with true love, not just of the subject but of the effect of colour and light, background and foreground. And if you look closely, you will find a story, a narrative, there. He points animals with the equal delight that he gives to humans, and his house and other dwellings often seem to be living, breathing beings.
Over the years, Alex's versatility has extended to designing , from his pioneering tee shirt designs of the 1970's to colourful designs for greetings cards, fine bone china and tableware , he has enjoyed considerable success in the commercial world, his first — and last — love has always been painting rather than commerce. He now says that release from market constraints has freed his imagination and enabled his art to deepen and develop in a new way.
Influences apparent are those of Peter Blake, his teacher at St Martin's School of Art, Picasso , Matisse and also Duncan Grant. But they are only glancing influence; Alex makes his subjects truly his own, so that although his art is continually changing, evolving and moving on, his paintings remain as recognisable as ever. An uncommon lightness of touch informs all his work and as he becomes steadily more confident of his own vision, this visual dexterity is increasing.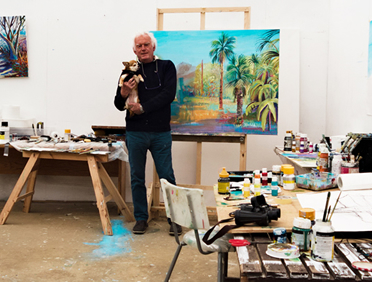 ALL IMAGES AND SITE CONTENT © ALEX WILLIAMS